Home Owners 2022 Net Worth Grows
Posted by Alice Lema on Friday, September 30, 2022 at 2:06 PM
By Alice Lema / September 30, 2022
Comment
Home Owners 2022 Net Worth Grows
Full Video Transcript Below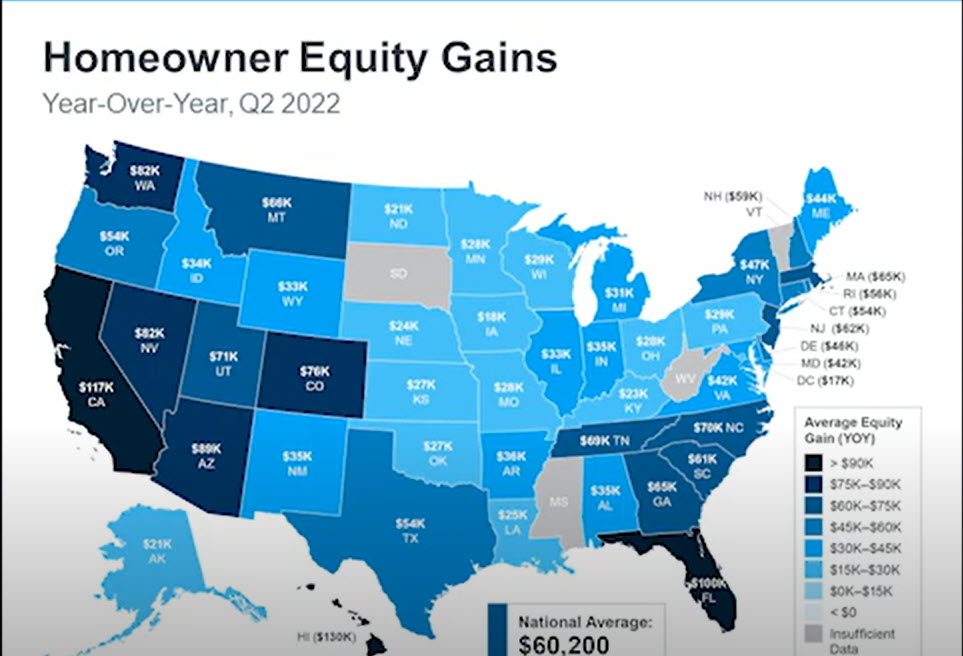 Home Owners 2022 Networth Grows
Alice Lema: [00:00:00] Alice Lema here, broker John Scott, and beautiful Southern Oregon, another addition of the weekly podcast. Today we're gonna talk about how through out the craziness of 2022 homeowners nationally, have improved their net worth. They have equity in spite of all the crazy prices up and down, the stock market up and down.
Now we have a hurricane in Florida. Best wishes to all our friends and family in Florida by the way, we're keeping you in our hearts. So we're gonna talk about all that, okay? But first, let's give you a quick second to subscribe to the channel, and thank you, if you've done that, it really helps. Send us some questions. Give us a like. You can share this with your friends and family. That's what it's for. Okay?
And if you need to speak to me privately about your real estate needs and future, just call or text, (541) 301-7980. It's up there somewhere. Okay?
So onto the podcast, How home equity is boosting Americans net worth through the crazy, crazy 2022. All right, so first of [00:01:00] all, we wanna acknowledge another super volatile week. You know, we're just another week into a huge rate increase from the Federal Reserve Bank. We have the terrible devastation of the hurricane in Florida, and a lot of volatility overseas. Our financial markets are just really kind of spiraling, not knowing what to do. But through all that, I just wanna mention through all those financial struggles and inflation and supply chain problems, home ownership is still proving to be a great way to hold your value to gain some wealth through all of this.
So here in southern Oregon, for example our prices, if you will, are up from last year. And just to point out what that means is in Jackson County, we have a 5% increase now over last year. But that means that our average price per house in Jackson County is now over [00:02:00] $510,000.
The prices in Josephine County are up 6%. Those prices are averaging over $466,000. And Klamath County is up 9% from this time last year, and those home prices are over $323,000 average per home. So you can see that even in spite of all the price changes, cuz I know a lot of people started high this year. And then the interest rates just like keep going up and up and up, and it's wiping out the buyer's ability to pay.
So the prices are coming down, but they're more moderate. You know we're not, we're still not predicting a crash. And this is why I wanted to say in the podcast this week that people's net worth is higher than it was this time next year, this time last year, Sorry. If you owned real estate you know, and if you remember back in the seventies, one of the big things people talked about was during hyperinflation times to put your money in assets that will go up [00:03:00] in value during inflationary times.
And real estate is one of 'em. So as the stock market continues to struggle, home ownership kind of looks good and, and some of that money might be coming outta the stock market and going into real estate. We'll see, we'll know closer to the end of the year. So how do you tell what your home is bringing you to your bottom line?
Well, what you do is you check your value of what it is worth now, and I can help you with that. You can also go on the automated valuation websites. They're not anywhere near perfect, but they'll give you an idea. And you can also go to the bottom of those pages on those valuation websites, and you can see the trend.
And that's, in my opinion, more valuable. But you can get your own value, or you can call me or somebody like me and we'll give you an idea of what your property is worth. So once you know what it's worth, then you subtract what you paid for it. And then you also wanna look at how much you have left on your mortgage, and then you can figure out your gain.
So [00:04:00] for example, If you spent $300,000 on a property, let's say five years ago, and now it's worth 400,000, then you gained a hundred thousand dollars. Now if you check what you've paid down on your mortgage, then that's your net gain. Okay, so that is a way to start tracking how real estate is building your wealth over time so that you know where you stand.
And we have people comparing real estate to a lot of other kinds of investments. And I just wanted to take today and give a thumbs up to the ongoing wealth building through this crazy year of 2022 showing how we're holding our own.
So we have a map that shows the equity gains from as of second quarter, 2022. And you can see in Oregon that we have an average of $54,000 in equity per [00:05:00] homeowner in the state of Oregon where the national average is 60,000, and those numbers were crunched at the end of second quarter, so that wasn't that long ago. We'll have our third quarter numbers here in another month or so, and we'll go back and compare, and if it's changed, we'll talk about it, but it's been such a hard week.
I just wanted to make a pitch for how homeownership is still holding its own in spite of four and $5 gallon gas.. And you know, meat is expensive and milk is expensive and produce is going up and everything is costing more. If you own a home or you wanna own a home, here's how it can help you have ongoing wealth building for you and your family even through tumultuous times.
Okay, so I also wanna say buyer opportunities are still great. You know, we still have some interesting pricing. We still have a lot more properties coming on the market as we try to [00:06:00] moderate and normalize. Okay again, we're not looking for a crash here, but the buyer opportunities are still strong. So if you've been thinking about dipping your toe in the water and buying a property first time, or buy an investment, or buy something bigger, something smaller, let me know because we still have people out there that wanna sell.
And it's still a good time for buyers to get out there and make something happening, especially with this ongoing equity building. I mean, if we're building in Jackson County, 5% through a year, like 2022, think how we could do in a more normal year, hopefully 2023. And even if 2023 is hard, we still have ongoing desirability cuz everybody wants to live here.
And we know why, cuz we live here and we love it. So, So there you go. That's the podcast for today. You can reach out to me at 541-301-7980. If you wanna talk about your real estate would love to be your agent. I'm a great listing agent. Great buyers agent. Do a lot of real property, [00:07:00] waterfront, lot of investing, a lot of first time home buyers and also tenants.
You know, if you're a tenant, you don't wanna be a tenant. I'm your gal. So gimme a call, gimme a text, and let's talk about what we can do next in your real estate life. Okay? Have a beautiful weekend. Hug those you love. See you next time. Bye now.