Medford Oregon Building Department - What's Happening
Posted by Alice Lema on Tuesday, March 28, 2023 at 4:00 PM
By Alice Lema / March 28, 2023
Comment
Medford Oregon Building Department - What's Happening
Title: Building Safety, Code Compliance, and Sustainable Development in Medford, Oregon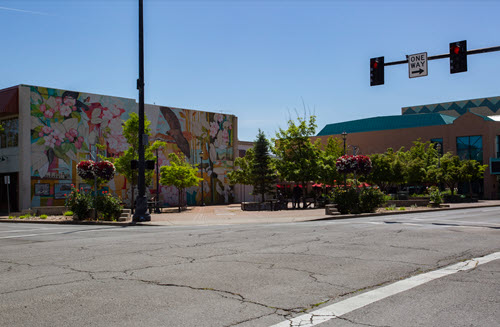 The city of Medford in Jackson County, Oregon is taking a proactive approach to building safety, code compliance, and sustainable development. In a recent interview, Kimberly London has 25 years of experience in the building department. She and Chad Wiltrout, the Assistant Building Safety Director, discussed the latest developments in building safety and code changes in Medford. They work together to educate contractors and the general publi on new codes and ensure compliance through out the city.
Medford is having it's 50th anniversary of Building Safety Month and the 110th anniversary of the city's first building permit. The city wants to celebrate these milestones, so the city plans to host events, trainings, and other activities that promote awareness of building safety and code compliance.
Several new codes were introduced In 2022, in Medford, including the Oregon Structural Specialty Code, the Oregon Mechanical Specialty Code, and the International A 117.1 accessibility code. These codes were implemented to ensure that buildings are constructed safely and efficiently while meeting the accessibility needs of all citizens, a hard task to accomplish.
The city of Medford is planning to host town hall meetings for design professionals, designers, and contractors to make them aware of these new codes. These events will provide an opportunity for attendees to learn about the latest updates and how they can best comply with the new codes in their projects.
Building departments from different jurisdictions in Southern Oregon meet regularly to discuss code interpretation and ensure consistency in their applications. These meetings include representatives from Grants Pass, Ashland, Josephine County, Jackson County, and occasionally, officials from other regions like Hillsborough and Douglas County. The goal is to provide a consistent interpretation of codes across the Southern Oregon region.
New house permits issued in Medford has been low, with only seven permits granted in the previous month (Oct 2022.) This is a significant decrease compared to previous years, with factors like interest rates, economic conditions, and the COVID-19 pandemic impacting the construction industry.
There may be an overall slowdown in construction, but new residential subdivisions are being approved in Medford, and officials are waiting for the submission of plans before construction can begin. So the city is still ready for growth in the residential sector, though at a noticeably slower pace than before.
Major home builders in the region, such as Mahar Homes and Hayden, are projecting continued strong construction through 2023. This optimistic outlook may mean that the construction industry in Medford and the surrounding areas may bounce back and contribute to the region's economic growth in the coming years.
DR Horton, a major national construction company, is entering the Medford market with plans to build new subdivisions. They are starting 10 new foundations in December which further shows their commitment to expanding housing options in Medford.
Spirit Village is a cutting edge 3D housing project, and is a groundbreaking development in Medford that will help position the city at the forefront of housing technology. This the second 3D printed subdivision in the nation, so Spirit Village has the potential to draw significant attention and investment to the area, fostering further growth and innovation.
The 3D printing technology utilized in Spirit Village is an advanced process that creates concrete homes using a computerized machine and digital designs. This cutting-edge method of new construction offers numerous benefits, such as reduced construction times and possibly lower costs. But, it also presents unique challenges as the technology is still relatively new and not yet widely adopted. So it needs to meet local building codes and energy efficiency standards. So this is one of the main challenges faced by the Spirit Village project. This technology is not yet considered prescriptive, so the project will require a licensed design professional to ensure the homes meet local criteria, such as seismic and wind requirements, as well as energy codes for insulation and other factors.

So lots of activity and changes in the Medford, Oregon building scene! This inforamation is taken from an Interview with Kimberly London and Chad Wiltrout with the Medford Building Depart. You can listen to the full interview or see the original transcript