Slower Appreciation NOT Depreciation
Posted by Alice Lema on Tuesday, September 6, 2022 at 11:59 AM
By Alice Lema / September 6, 2022
Comment
Slower Appreciation NOT Depreciation
Full Video Transcript Below
Slower Appreciation not Depreciation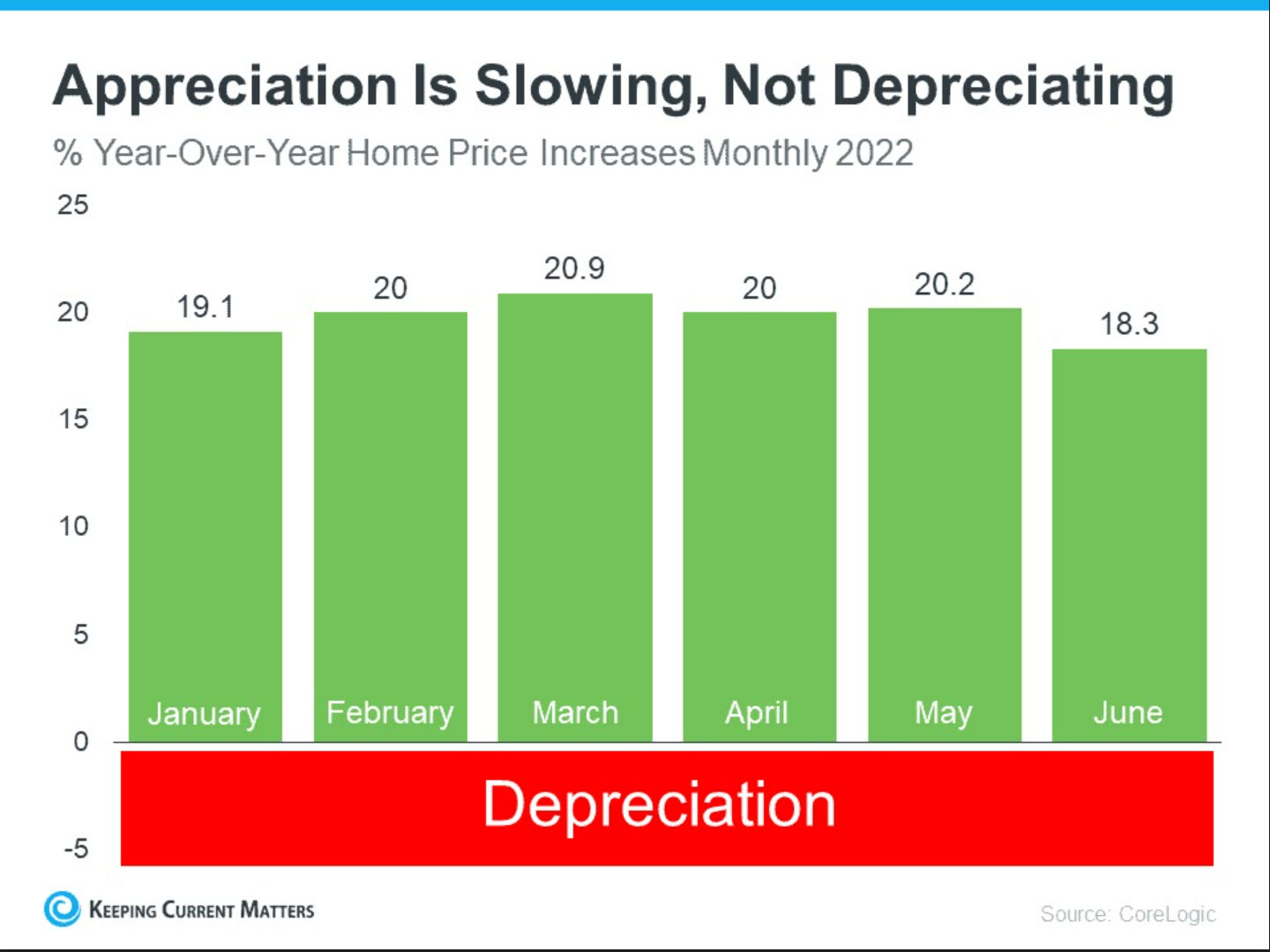 Alice Lema: [00:00:00] Well, Hey there real estate fans, Alice Lema here, broker John Scott with another edit of the weekly podcast. So glad you could join us today. We're gonna talk about how appreciation is slowing, but it's not depreciating a very important difference. It's the end of the summer review. Before we get started on that, I wanna give you a quick second to subscribe to the channel. Give us a like thumbs up, send it to your friends. If you wanna speak to me personally, privately, you can text or call there's a number up there. 541-301-7980.
So let's get to the podcast. Appreciation is slowing, not depreciation. It's the end of the summer wrap up. So I have a chart here from keeping current manners KCM, one of my favorite websites. And you can see that for 2022, we're actually doing really well with the appreciation, which is prices going up. But they're going up less fast than they were.
Now this chart happens to be nationally. [00:01:00] If we look at what's going on in Southern Oregon our prices year to date from January to now, Jackson county is up 6%.
Josephine county is up 8% and Klamath county is up 9%. So that's compared to 2021 locally. That's a nice, consistent, scalable consistently repeatable number. Those are low enough that we're, we're bordering on normalcy. And that is what we've really needed for several years. Now, with that in mind, the confusion is coming is because people are watching all these price changes.
So the price changes are happening because the market just changed literally in 90 days. So if your mindset is any further back than 90 days ago, whether you're buying or selling, then you're completely off because all those interest rate changes brought the prices down a little bit, but we were still, we're still in an [00:02:00] appreciation mode just more slowly.
Sellers that are going out on the open market, too high. They're having to come down to where the market is. So that's what you're watching when you're watching all these big price changes are people that started too high, or they started earlier in the season and they didn't do their price changes fast enough.
that's what you have to do in a volatile market when it's changing downward, but I just wanna say we're not in the danger zone, not by any means, not nationally and not locally. So if you are looking to move, it's still a great time. We still have plenty of buyers out there and they do want a home and they do want a place to live.
We don't have as many investors. But we do have some. And if you are a first time home buyer, I think this actually could be a great time because we have more and more listings coming on the market in the lower price ranges. And even though [00:03:00] the interest rate is higher, it's all about your payment.
So here's my advice. If you wanna sell, let's get your house on the market right now. We still have a good number of buyers out. It can still happen and you could go on to the next point in your life. If you're buying, I think it's a stellar time to buy because you're gonna have a little more breathing room in your touring process.
You actually get to go look at five or 10 houses and then think about it. What about, that's just such a new concept. You can actually have some time to think about it before you write your offer. So moderating not depreciating. We still have gains, especially if you look at the year to date.
We're finishing the summer season, cuz this is labor day. We're gonna go into the beginning of our fall season. We still do well in Southern Oregon. We still sell a lot of property in the fall. And then we'll go into the winter and 20 23 early spring market. We're still wondering if we're gonna have [00:04:00] more homes sold for 20 22 than we did 2021, because more inventory came on the market.
I was still on the camp that we might actually have higher numbers for 2022 . Right now, the jury is still out on that. So we will just have to see what happens at the end of the year.
In the meantime, let me know if there's anything I can do for you to help you with your real estate needs. I'm a great listing agent, great buyers agent, do well with invest, riverfront, do a lot of rural property and love first time home buyers. That's always such a treat. Not that I don't love everybody, but it's particularly heartwarming when you watch that moment, when somebody realizes that it's their place, it's just so exciting.
Anyway have a beautiful weekend. Call me, text me (541) 301-7980. Hug those you love. We'll see you next week bye.