Why Are Home Prices Not Crashing?
Posted by Alice Lema on Monday, April 10, 2023 at 12:45 PM
By Alice Lema / April 10, 2023
Comment
Why Are Home Prices Not Crashing?
Full Video Transcript Below
Why are Home Prices Not Crashing?
Alice Lema: [00:00:00] Hey, real estate fans, Alice Lema here, broker John L. Scott in beautiful southern Oregon with another edition of The Weekly Podcast. And today we're asking and answering the question why or not home price is crashing. So this is a very interesting phenomena and I think you might be surprised, cuz I know there's a lot of parts of the country that are having some pretty serious price issues and our local market has gone down a little bit in the last year.
So if you're a buyer and you're waiting for prices to crash, I think you're missing huge opportunities right now. And the reason that we're not having prices sink really low is because of low inventory. So Dr. Lawrence Yun, who's the chief Economist of the National Association of Realtors, just came out with a statement saying that we simply do not have enough inventory.
He's asking the question as well, will some markets see a price decline? Yes. But with the supply not [00:01:00] being there, the repeat of a 30% price decline is highly, highly unlikely. Now, this is the chief economist of the National Association of Realtors, and I wanna give you a quick graph. This is from K C M, keeping current matters so that you can see over time ,if you go back to 2011, all the way to now, we don't have a normal inventory market and we're going into the spring selling season. And we have interest rates possibly coming down and we have people taking their money outta the stock market to purchase real estate. So lots and lots of demand.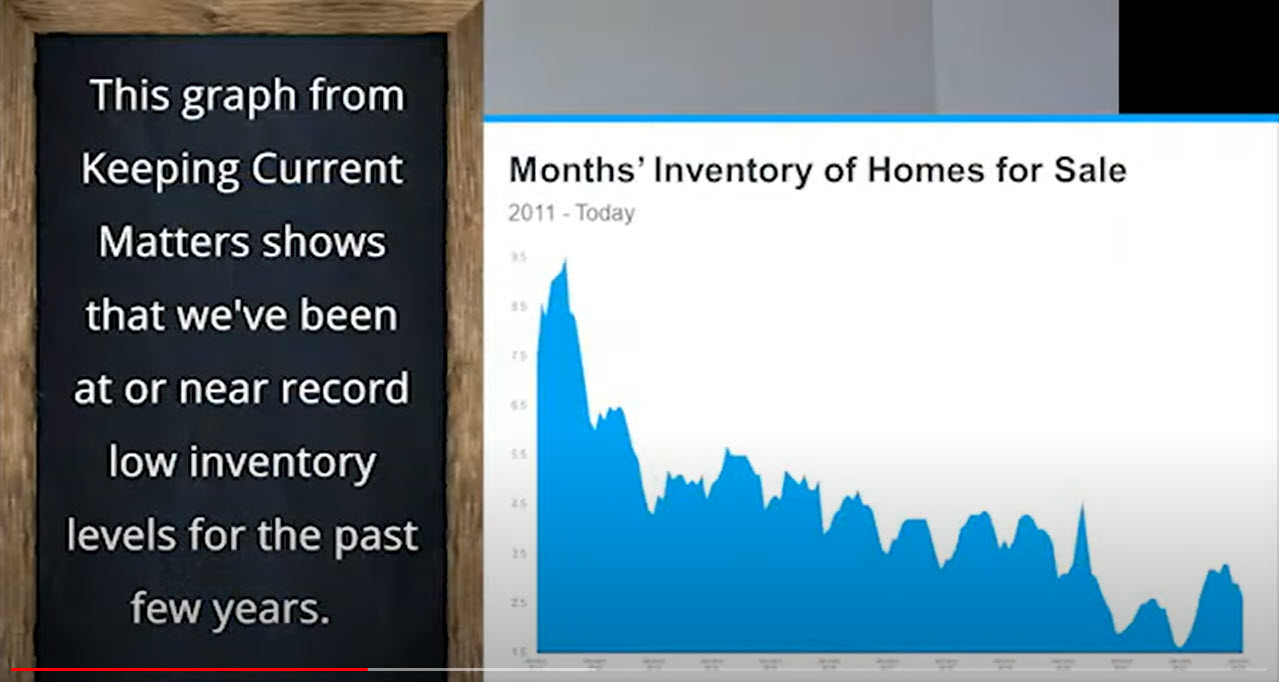 So sellers, listen up. This is amazing opportunity. You can put your house on the market. You can grab all that equity, all that appreciation that you've earned in the last two to 10 years. People have buckets of money in their house and you could get the house you love. You could get the house that is better for you now at this stage of your life than it was when you first purchased it.
We [00:02:00] also make the point that the lack of available homes on the market is putting upward pressure on prices, not downward. At bankrate.com, another one of my favorite website put out a statement saying, and I quote, this ongoing lack of inventory explains why many buyers still have little choice but to bid up prices.
It also indicates that the supply and demand equation simply won't allow a price crash in the near future. Now, if something starts changing, we're gonna let you know cuz we do this every week. We check every week. But I'm telling you, if more homes don't come on the market not only will the price support be there and not have a price crash, but the prices could go up.
So this is an amazing opportunity not only for sellers, but for people who maybe were not thinking of selling, but wanna grab and secure that profit that they've earned in the last few years. We're gonna have a lot more buyers coming to the market. So brace [00:03:00] yourself and again, if you've ever thought of selling or you're just not in love with your place, or you need something different, or it's time for a rental, give me a call.
Give me a text, 541-301-7980, because check out our local stats. Jackson County, 61 days on market average. Josephine County, 77 days on market. In the last quarter, Klamath County was averaging 76 days on market. So those are still modified seller markets. I'm telling you, give me a call. Let's get your household, let's lock in that appreciation and let's get you something that is a little better suited to you right now.
And if you're a buyer, don't wait. There's not gonna be a crash. At least not right now, unless you wanna go to another part of the country. There are, I don't know, four to six spots that are really hurting. But I think their prices were way higher than Southern Oregon. You know, Southern Oregon is a destination lifestyle location, and that's [00:04:00] partly why.
We love living here, but it's also why other people wanna move here. And we're expecting a big surge of buyers. So if you're a buyer, get ready to have some arm wrestling again. And if you're a seller or you wanna be a seller, call me, text me, (541) 301-7980. Have a beautiful Easter weekend. Hug those you love. We'll see you next week bye now.