Grants Pass, Oregon Recreation & Culture
Recreation
Fishing, Rafting and Hunting
Rogue River Rafting Company - White Water Rafting, also Fishing Trips
Morrison's Rogue Wilderness Adventures & Lodge - Stay at the lodge, and/or book a rafting or fishing adventure!
Golf

Applegate River Golf Club - 9 Hole a public golf course that opened in 1994, located along the Applegate River.
Dutcher Creek Golf Course - 12 Hole public course. Lots of Beatiful water challenges.
Grants Pass Golf - 18 Hole, semi-private golf course
Red Mountain Golf Course - 9 Hole public Golf Course
Parks
Parks are open from 7 am to 7pm. Courts & field with lights are open til 10:30 pm
Current Recreation Guide - 2020
Reinhart Volunteer Park - Large park built mostly by volunteers along the Rogue River. This is a wonderful park for sports! They have 4 softball fields, a soccer field, 2 baseball fields, 3 sand volley ball courts, a jogging trail, 3 tennis courts, 4 basketball courts, 12 horseshoe pits, a pond for fly casting, other fishing ponds, wild life areas for viewing and wet land areas.
Riverside Park - This is the crown jewel of the Grants Pass Parks system. There is so much for everyone, starting with frontage on the Rogue River, playground, a spray park, soccer field, softball field, rose garden and more. The Concerts in the Park are held here. And a Disc Golf course goes thru the park.


Other Attractions:
Historical District
The downtown area of Grants Pass has been designated a National Historial District due to it's historical buildings. There is lots of free parking to make it easy to explore. There are two self guided walking tours so you can see the buildings from the 1800's. The area has been revitalized thru a multimillion dollar grant - new streets, sidewalks and other things to make it more walk friendly. Many events are held here - Parades, First Friday Live and Bear Fest.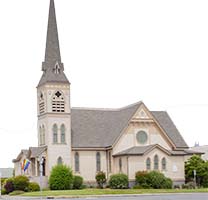 Historic District Walking Tour #1