Medford, Oregon Recreation & Culture:
New to Medford, Oregon or just need a reminder how many things there are to do in the area? Lots of city, county and state parks in the area. The popular Rogue River is close by. Or for something indoors to do, then head for the Rogue Valley Mall.
Recreation
Fishing & Boating:
Need to know the regulations,license info, fees? Fishing info

Agate Lake is a county park - 239 acre reservoir is mostly warmwater fishing stocked with catfish, yellow perch, bass,crappie and sunfish. There is good bank areas to fish and has boat access. It is northeast of Medford and one mile south of 140.
Denman Wildlife Management Area Ponds.
This is near White City which is northeast of Medford. There are a group of ponds which add up to about150 acres total. Good fishing for -bullhead catfish, sunfish, bass , and crappie
Whetstone Pond:
Boat launch but it's unimproved. Has good bank access though and newer ADA fishing piers
Hoover Ponds
South side of White City - decent fishing for same fish as Whetstone Ponds
Boating
Whether you want the comfort of Jet Boat or more excitement of rafting or kayaking, the Rogue River has it all and is one of the top destinations for anything water related. You can view the banks and river from a comfortable jet boat. You may see sightings of wildlife you might not see from the land. If rafting is your thing, you can spend anywhere from 4 hours to 4 days on the water. If you are a beginner or a seasoned adventurer, it's available for you. Here are some of the outfiters: Rogue Jet Boat Adventures, Raft the Rogue , Rogue River Rafting Company
Golf

Golfing in Medford is a popular pastime as it is in many areas. Two of the public ones are Quail Point Golf Course and Stewart Meadows Golf Course. Bear Creek Golf Course is a smaller course if you want a quicker game of you are a beginner. Oregon Golf.com has an extensive list of Golf Courses
Parks:
Pear Blossom Park - hosts the yearly Pear Blossom Run, Pear Blossom Festival and much more.




Bear Creek Greenway - This is an awesome 17.9 mile biking and walking trail with no cars allowed. It goes from Central Point to Ashland and cuts thru Medford

Medford Railroad Park - Don't need to go to train station as this park has full sized cars such as a caboose and hopper cars. Ride the little miniature steam train. This is a 49 acre parcel, also features the Railroad Park Pavillion which you can reserve thru the City of Medford Parks and Recreation Department.

Prescott Park has the Roxy Ann Peak which is a 30 million year old volcano that is dormant. The park has 1740 acres for you to explore. There is a trail system that has nature trails and look out areas. There is also a paved walking path.

TouVelle State Recreation Site - beautiful park on the Rogue River banks. Also at the foot of Table Rocks. This is a great park for gatherings and picnics. Reserve on the the group picnic spots. Go for the day and use the boat ramp to launch,or swim, fish, hike. Good spot for bird watching. $5 day use fee.
Other Attractions: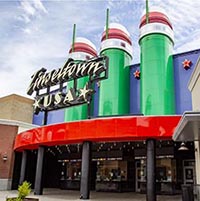 Tinseltown Cinemark USA - popular local hangout. This theatre lets you kick back lounge in reclining chairs and drink a cold beer or glass of wine. Located in The Village at Medford Center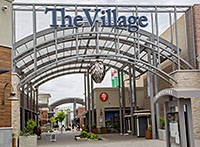 Medford Thursday Farmer's Market - from 8:30 to1:30 located at the corner of Hawthorne & E. Jackson Streets in Medford. Beautiful location at Hawthorne Park. Runs from 3/5/2020 to 11/19/2020 The Medford Center has very nicely agreed to let Market goers park there. Lots of Vendors come shop local!