Move to Ashland Oregon
Looking to relocate? Start Here.
General Information
Ashland is a small town of a little over 21,000 population in Jackson County in Southern Oregon. Ashland updated their Internet access in the 1990's. They created the Ashland Fibre Network. The city controls the Infastructure and the High Speed Internet Access.

Ashland has bus service to most of the city thru Rogue Valley Transportation District. There is a daily shuttle to the Amtrack station which is in Klamath Falls. And the Rogue Valley Medford International Airport is only 12 miles from Ashland.

Schools
Ashland Oregon School District - site for all the public schools - Elementary thru High School for the district.
Great Schools.org lists schools in Ashland and rating information
School Digger.com Lists all schools in Ashland area and ranking, also number of students.
Southern Oregon University - the largest employer in Ashland. They have approximately 6200 students. They have a number of online courses and you can obtain a degree online. This is especially true in the current environment. They have an Oregon Center for the Arts. This focuses on the Creative Arts such as music, theatre, creative writing and emerging media.

Economy
Ashland like the rest of Oregon has no sales tax. There is income tax of approx. 9%. But most states charge an income tax. The largest employer is Southern Oregon University as they employ over 750 people. Tourism is also very important. (hit hard by Covid 19 as well as other tourism areas). Property Taxes are basically 5.49% per thousand (Ashland.or.us)

Health & Wellness
Asante Ashland Community Hospital - in 2015 had 49 hospital beds. It is part of the Medford based Asante Health Network. It is both a general and surgical Hospital.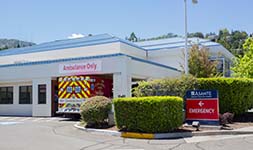 Moving Services
If you are moving from another state then it is considered an Interstate Move. Any of the major companies can help you and give you a quote. Check in your local area to see who is available.

North American Van Lines
Bekins
Mayflower Transit
There are others, check in your local area.

Do it Yourself
UHaul
Penske Truck Rentals
Rental Information
Apartments.com
Medford Craigslist - Watch out for scams - don't send money. Make sure it's a legitimate Property Mgmt Company or the Owner. Medford Craigslist also cover Josephine County.
Zillow.com
Zumper.com